_____________________________________________________________________________________________
ACTS 29 TODAY
coming to the knowledge of the TRUTH
_____________________________________________________________________________________________
_____________________________________________________________________________________________
A SUBTLE KIND OF UNBELIEF
____________________________________________________________________________________________
So I began a search to find out what kind of unbelief
Jesus was referring to. I discovered that it's a subtle
kind of unbelief a person may not even know he has
until his life is over. If the disciples knew why they
couldn't cast the devil out, why would they have
bothered to ask Jesus? They didn't know, so they asked
Him.
This subtle unbelief puts a ceiling on your life that
defies you to pull yourself out of the mess your life is in
or to accomplish the thing God wants you to
accomplish. As long as that ceiling is there, one year
will be like the next, until one day you'll realize five
years have passed, and your anointing hasn't changed;
in fact, nothing has changed. You're just the same now
as you were five years ago. Why?
Because you keep operating under an invisible ceiling
that hangs over your life, and you don't even know it's
there. And even if you did know, you couldn't break
through that ceiling in your own strength.
Let me explain a little more with this hypothetical
situation. Suppose five little crippled,deformed
children in wheelchairs are brought to my meeting,
their arms and legs twisted and their heads leaning
over to one side. I come in, and as I begin to preach, I
see these five little children.
Now, I can't blame the fact that the children aren't
healed on their faith. They aren't required to have any.
I also can't say it isn't God's will to heal them, because
even though the disciples couldn't cast that devil out,
Jesus revealed His will when He cast it out.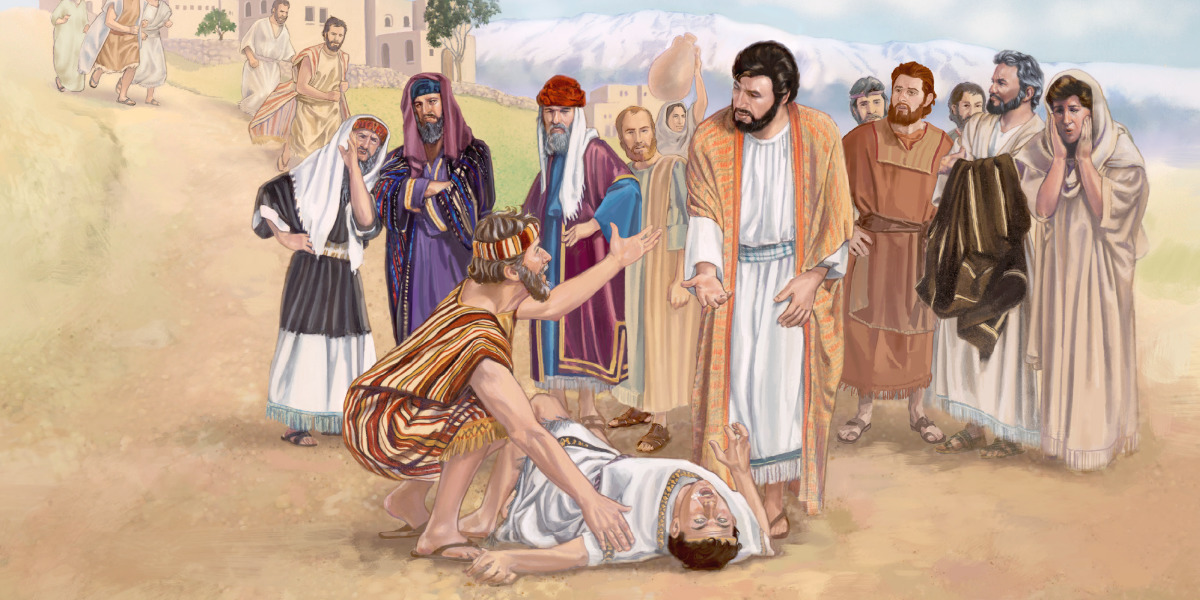 So I walk over and lay hands on the children. I reach
down on the inside of me and pull out every ounce of
faith I have. I milk every cell, every fiber of my being
for faith to pour out on these kids — but still they don't
get healed.
Suddenly Jesus in His glorified body walks in the room.
I say, "Jesus, I'd like to ask You a question."
Jesus says, "Hold on just a minute, Brother Roberson."
Then He walks over and heals everyone of those
children, just like that! He comes back to me and asks,
"Do you have a question?""Yes, I do. Why didn't You
heal those kids when I prayed for them?"
Now, do you think Jesus is going to tell me anything
different than He told His disciples?No, He looks at me
and says the same thing: "They didn't come out of their
wheelchairs healed because of your unbelief, Mr.
Roberson."
I protest, "Jesus, that's impossible! If there was any way
to have more faith, I would have had it. I turned my
being inside out; I pulled on every fiber within me. How
can You say they didn't get healed because of my
unbelief?"
"Because there's a subtle kind of unbelief in you that
you don't know about, Brother Roberson."
But this one thing I have discovered about Jesus, my
Teacher. He never outlines a problem like this without
going on to give me an answer before the teaching is
over. It's not enough to outline a problem; I need an
answer. There must be some way I can deal with that
kind of subtle unbelief on purpose so that absolutely
nothing is impossible unto me.
____________________________________________________________________________________________
Fasting Helps Move Mountains
____________________________________________________________________________________________
In my search, somehow I knew my answer lay in what
Jesus told His disciples in Matthew17. I found that
answer in verse 21: Howbeit this kind goeth not out but
by prayer and fasting.
Jesus analyzed the whole situation in one word:
"howbeit." "Howbeit" is an analytical word meaning
nevertheless or however this particular situation may
be. Jesus was in effect saying that even though
mountains can be moved with faith the size of a tiny
mustard seed, we will encounter some situations that
require prayer and fasting to overcome.
Jesus was talking about a lifestyle of prayer and fasting
here. Most deliverance preachers in the old days taught
about and encouraged that kind of lifestyle. Today we
don't teach or emphasize its importance nearly as
much. The result? Although we live in a time of Church
history when teaching the Word has risen to the
forefront, many are unequipped to do the Word, which
includes casting out demons and moving mountains of
all kinds.
Often we associate fasting only with deliverance from
demonic influence because of Jesus's statement here
that a certain kind of demon can be cast out only by
prayer and fasting. But Jesus also told His disciples that
the reason this devil wouldn't come out was their own
unbelief (v. 20).
So Jesus didn't just associate fasting with demonic
deliverance; He also associated it with moving your
mountain. He said, "If you had faith as a grain of
mustard seed, you could speak to the mountain and it
would be removed, and absolutely nothing would be
impossible to you."
Right after saying that, Jesus made the statement about
prayer and fasting. This indicates to me that these two
things have something to do with bringing me from a
place of unbelief —where my mountains refuse to
move, where everything is impossible to me — to a
place where nothing is impossible to me.
Therefore, my fasting doesn't move God; He isn't the
One stuck underneath an invisible ceiling. My fasting
also doesn't move the devil; he isn't the one with my
problem. Somehow fasting deals with my unbelief.
But my question to God for so many years was this:
"What in the world does fasting have to do with
unbelief?" Of all the places to find that answer, I found
it back in Romans 8:
And if Christ be in you, the body is dead because of sin;
but the Spirit is life because of righteousness.— Romans
8:10
If Christ lives in you, you qualify for the rest of this
verse, namely, that your spirit is life. It has entered into
the zoe, seated-in-heavenly-places-with-Christ, God-
kind of life.
But notice, the same verse that says my spirit is life also
declares my body to be dead. Well,I know my body isn't
physically dead because I'm still wearing it. So what
kind of "dead" is Paul referring to? To understand this
passage in Romans 8, we must refer back to something
Paul said in Romans 6:6:
Knowing this, that our old man is crucified with him,
that the BODY OF SIN might be destroyed, that
henceforth we should not serve sin.
What is this "body of sin"? It is no less than the old
nature inherited from the first man Adam before we
were born again. This is the "sin nature," the
unregenerate spirit within us all before our spirit
passes from death to life in the new birth. It was that
sin nature that used to energize the lusts of the flesh,
such as self-exaltation and the love of money.
So if Christ be in you, then positionally God has
declared the sin nature, the "body of sin,"to be dead
and your reborn human spirit alive unto Him.
We understand positional truth pertaining to our spirit.
For instance, we know that Jesus was made to be sin for
us and that we were made the righteousness of God in
Christ (2 Cor.5:21). We are now seated in heavenly
places with Christ Jesus (Eph. 2:6). We are above and
not beneath (Deut. 28:13).
However, we may know very little about positional
truth pertaining to our flesh. The essence of that truth
is this: The moment we were born again, God declared
the "body of sin"— the sin nature or the "old man" — to
be dead. Positionally, the flesh has lost its "power
source" to commit sin. It lost its right to dominate and
rule over us any longer.
So when you pray in the Holy Ghost, worship God, and
confess His Word, you are enforcing the positional
truth that your spirit is seated in heavenly places with
Christ Jesus. The more you pray in the Holy Ghost, the
more you execute that position of grace. On the other
hand,…………………… when you fast, you
are enforcing the positional truth that
the "body of sin" was crucified with
Christ and your flesh no longer has the
power to rule over the operation of your
spirit.
Thus, when you begin to fast and pray, you execute two
positional truths in the realm of the Spirit. That's why
prayer and fasting are the power twins.
_____________________________________________________________________________________________
Until next time
LARRY