_____________________________________________________________________________________________
ACTS 29 TODAY
coming to the knowledge of the TRUTH
_____________________________________________________________________________________________
_____________________________________________________________________________________________
The Woman Who Inherited Millions But Lost Her Testimony
____________________________________________________________________________________________
As difficult as it may be to persevere in prayer through
the impasse so God can complete the purging process, I
can guarantee you — it is worth it all.
You see, the Holy Spirit is the One whom God sent to
illuminate and strengthen your reborn human spirit to
put to death the deeds of the flesh that hinder your
walk with Him. But even if you don't allow the Holy
Spirit to expose the things hidden in darkness, sooner
or later they will still be revealed.
For example, someone once told me the story of a
Pentecostal woman who always sat on the front pew of
the church. She praised God and shouted with the best
of them. This woman's husband was a multi-millionaire
heathen. When she went to church, he would lock her
out;sometimes he even beat her. But no matter what
her husband did, she would come to church every time
the doors were open. She was a faithful woman.
One day her husband died, and she inherited his entire
fortune. However, it wasn't very long after her
husband's death that this woman's cars became longer
and her church attendance became shorter! Pretty soon
she went from sitting at the front of the church, to the
middle, and then to the back. Finally, she only came to
special meetings. By that time, the only power she fell
out under was the weight of the gold strapped to her
wrists!

Someone said, "It would have been better if that woman
had never inherited the money at all." Wrong. All the
money did was expose to the light something that
already existed in her,hidden in darkness.
You see, it isn't money that is evil — it's the love of
money. If this woman hadn't inherited the money,
something else would have brought out that trait in her
down the line.
This is why Jesus said, "These are they who are sown
among thorns" (Mark 4:18). The thorn seeds existed in
the field before the Word was sown. When the Word
seed landed on the ground, the cares of this life and the
deceitfulness of riches (thorn seeds already resident
with-in the ground) sprang up, wrapped themselves
around God's prosperity, and proceeded to suck those
seedling plants into a selfish lifestyle and thus to
neutralize the Word (v. 19).
You see, you don't climb into a grimy cellar, turn the
light on, and say, "My, my, look at all the dirt this light
brought!" No, the dirt was already there. The light just
exposed it.

In the case of that woman, the potential to run after
money was already there. All the money did was expose
the problem.
Exposing the fleshly work for the purpose of purging is
supposed to be the job of the Holy Ghost. Jesus said, "If
you bear fruit, I will purge you. I will trim you back. I
will cut the dead limbs off" (John 15:2). He was telling
us, "I will clear the thorn seeds out of your field. When
the Word seed comes up and you start prospering the
Kingdom, I will keep the thorn seeds far enough away
from your plant that they cannot choke you."
I would much rather have the Holy Spirit expose my
weakness than to have a million dollars expose it. I
would much rather lend myself to the transforming
power of the Holy Spirit to be purged by the Word.
You ask me, "Would you like to have a million dollars?"
I'm not a liar. Yes, I would. "Do you want the million
dollars to choke the life of God out of you?" Absolutely
not. That's why I continually yield myself to the purging
process of the Holy Ghost.
_____________________________________________________________________________________________
Prosperity in Perspective
_____________________________________________________________________________________________
Prosperity is a relevant and important subject to our
lives. God wants to prosper us. When we are little baby
Christians, God slaps us on the bottom, changes our
diaper, and gives us toys. But we need to let the Holy
Spirit grow us up and take us higher in God through the
Word that pulls down soulish strongholds and sets us
free.
As you mature in the Lord, your faith will adjust to the
fact that the more you use every-thing you possess for
the Kingdom, the more God is free to increase you in
material wealth.
Because I live my life laboring for the world to come,
God is able to put money in my hands now. And He
doesn't mind that I "water my ditch" as it comes
through my hands. I can buy my child a fishing pole. I
can buy my wife a dress. He doesn't mind, because my
focus is on laying up treasures in Heaven.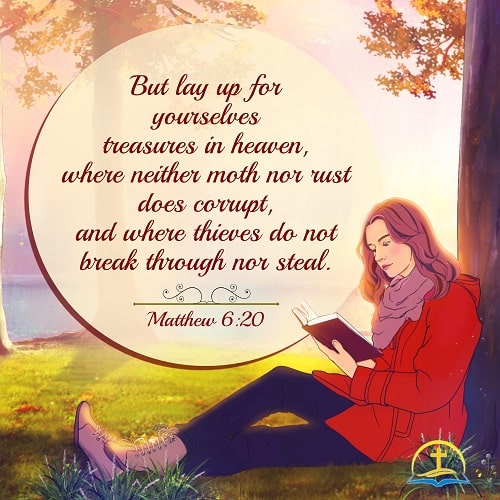 God will purge you until you have that same focus
through mortification. And in the end after you have
persevered in prayer and yielded to His purging
process, you will be rich both in souls and in material
goods.
You see, a lot of people want to be rich, but they want
their wealth to grow up among thorn patches. They
don't understand that real prosperity is based on God's
purging process.
A person can confess God's promises regarding
prosperity until he turns blue, but if he is someone who
causes strife and hates people, then God will not speak
to him in the secret place of his heart about good
business deals. Why? Because He knows that person
won't be able to use the money for His glory.
So does God care if you wear a gold ring? Not as long as
you also use your faith to add souls to His Kingdom.
_____________________________________________________________________________________________
______________________________________________________________________________________________
LARRY HERE NOW……THE PROSPERITY MESSAGE AS IS TAUGHT BY THE BIG JET SET
MANSION LIVING BENTLEY DRIVING PEOPLE, IS NOT SCRIPTURAL BUT SENSUAL,
THERE IS A DIFFERENCE BETWEEN GODS BLESSING AND MANS MANIPULATION TO
GET MATERIAL THINGS. I HAVE SHARED BEFORE WHY IT WORKS FOR THEM BUT NOT
FOR YOU….I WILL SHARE IT AGAIN SOON.
UNTIL NEXT TIME
LARRY