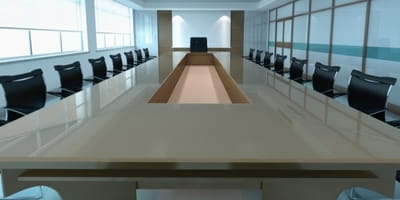 ACTS 29 TODAY
coming to the knowledge of the TRUTH
**************************************************************************************
The Conference Table of God
For the sake of our finite minds, let's imagine the
conference table of God in eternities past.At the head of
that great conference table sat God the Father. At His
right hand sat Jesus Christ, and at His left, the Holy
Spirit. The subject of the conference: the planning of
creation.
God laid everything out on the table included in His
great plan. He said, "We'll create this,and We'll create
that, and then We'll create people." Then He started
going down through the generations, looking ahead to
His plan for each person to be born on this earth.
Finally, He reached Dave Roberson's name.
God laid out His plan for Dave on the table, from Dave's
birth through every great thing He had called him to do
to fulfill his calling. Then Jesus (who at the time was
known as the mighty Logos, the Word of God) stood up
and said, "Knowing what will happen at the appointed
time, I will go forth and redeem Dave."
Next the Holy Spirit stepped up and said, "At the
appointed time, I will go forth and baptize Dave's heart.
I will also take a supernatural prayer language with me
to help Dave pray out the mysteries of God's plan,
because I was here with the Father when He planned
Dave's life from the beginning."
God planned not only my life at Heaven's great
conference table, but your life as well. He planned not
only your life, but even the lives of all the female babies
of various tribes and peoples who were killed because
they were the firstborn and not a male. God had a
carefully laid-out plan for each one of those little
unwanted babies. In fact, there has never been a person
born on this earth for whom God neglected to plan his
or her life from beginning to end.
And who knows God's plan for you? Who better than
the Holy Spirit, who was with God the Father when He
planned it? And now the Holy Spirit lives within you
and searches your heart to find out if you're on the
wrong or the right path.
Your natural mind can't tell you if you're on the right
path. But the Holy Spirit says, "If you will release Me, I
will help your weaknesses and begin to make
intercession for you according to the will of God. I will
work God's plan for your life."
Nothing Can Separate You From God's Plan
I can't spend six hours praying in the Holy Ghost and
worshiping God without the Holy Spirit taking the plan
of God His perfect will for my life and enforcing it out
ahead of me.As I pray, the Holy Ghost will lay hold of
and remove every boulder and every mountain that
stands in the way of my fulfilling the perfect will of
God. And who is a match for the Holy Ghost?
That's why Romans 8:28 goes on to say this:
And we know that all things work together for good to
them that love God, to them who are the called
according to his purpose.
Why will all things now work together for good?
Because the Holy Ghost is the One who seizes hold of
everything that is contrary to God's will for my life and
uses His power to replace it with God's perfect plan.
And He does it because I have found out how to release
the perfect will of God into my life.
Now you can see why Romans 8 ends with such a note of
triumph:
Nay, in all these things we are more than conquerors
through him that loved us.For I am persuaded, that
neither death, nor life, nor angels, nor principalities,
nor powers, nor things present, nor things to come,Nor
height, nor depth, nor any other creature, shall be able
to separate us from the love of God, which is in Christ
Jesus our Lord. Romans 8:37-39
How can I be so convinced that neither height, nor
depth, nor any creature, nor things present, nor things
to come can separate me from God's plan and His love
for me? Because I discovered how to walk after the
Spirit and not after the flesh. I found out how to allow
the Holy Spirit to work God's plan in my life as I pray
much in the Holy Ghost.
Yielding Your Authority To the Holy Spirit
This is where I get excited. In His infinite wisdom, the
Holy Ghost knew what to target in order to help us in
our infirmities. Certainly He wasn't going to try to
conquer our soul, our mind, our will, our intellect, or
our emotions first. Most of us have proven beyond any
reasonable doubt that we can be pushed around in
those arenas. We get mad at each other; we fall into sin;
we live on the edge of carnality; we can't overcome our
soul enough to pray as we should.
So the Holy Spirit just by passed all that mess our
wavering soul, our defeats, our up-and-down emotional
roller-coaster rides, our whimpering, our swelled
speeches of doctrinal error, our lying down in defeat,
and our little deceptions. Instead, He went straight into
the depths of our spirit the new creation that contains
all the authority Jesus transferred to us:
And Jesus came and spake unto them, saying, All power
is given unto me in heaven and in earth.
GO YE therefore, and teach all nations, baptizing them
in the name of the Father,and of the Son, and of the
Holy Ghost.  Matthew 28:18,19
Then the Holy Spirit said to each of us, "Look, little one,
you're being whipped because you're puny and weak
and your spirit has no understanding of revelation. But
your spirit man does have a new nature, a capacity to
understand spiritual matters, and the spiritual
authority I deposited in you when you were born again.
"So, excuse Me, but I'm here now, and I would like to
borrow your authority from you. You see, I need a
conqueror. And although I am the all-powerful Holy
Spirit, I can't do anything in your life without your
authority.
"First of all, I need your permission and authority to
pray through you. Will you give that to Me and let Me
help you fulfill God's perfect will for your life?
"You see, the Holy Spirit has a handicap us. He would
have finished taking care of mankind's mess a long time
ago if it wasn't for His handicap. He can't even pray
through us until we give Him that authority! Only when
we yield our authority to Him will He transfer His
supernatural language to our spirit man, giving us
utterance to pray mysteries before the throne of God.
If we are wise, we will lend our authority to the wisest,
most powerful Being in the universe, the One who
moved on the face of the deep and separated the upper
and lower firmaments. He who has all that power needs
only our authority to operate it in our lives.
The moment we start praying in the Holy Ghost, we give
Heaven the authority to create that prayer in our spirit
so we can pray the mind of Christ. As we yield our
authority to Him by praying in the Holy Ghost, we turn
Him loose to move us into God's perfect will for our
lives!
**************************************************************************************
WHAT AMAZING TRUTH, BUT SADLY PROBABLY 90% OF THE BODY OF CHRIST HAS NO IDEA OF THIS TRUTH, PLEASE SHARE THIS WITH EVERYONE YOU CAN IT RADICALLY CHANGES LIVES. (LB)
**************************************************************************************
UNTIL NEXT TIME KEEP PRAYING OUT YOUR DESTINY IN GOD, THEN YOU WILL ALSO WALK IT OUT.
AMBASSADOR / SERVANT
LARRY