---
ACTS 29 TODAY
COMING TO THE KNOWLEDGE OF THE TRUTH
---
Today is 9-11 in America, a day that will never be forgotten as it changed everything going forward for the rest of time. I knew somehow in my Spirit that day, that this event would change everything and unleash some things in the world that could never be taken back.
This was a wake up call and tho it did change some peoples thinking about life as usual, it wasn't long, and it was back to life as usual. They even built a taller world trade center. (but no repentance or turning from sin)
Since then we have had many wars that have produced little to nothing but needless loss of life and complete destruction of property. These are the signs of the times spoken about in Math 24 and other places in the scriptures.
Also there have been large devastating earthquakes in many different places.
Unbelievable tsunamis that have killed thousands of people.
Just in the last few weeks a powerful hurricane that hit Houston Texas and another one that just went thru the whole state of Florida. Irma may have been the biggest in history and caused the most damage ever.
And we could go on and on and on as this present world is coming apart at the seams.
SO WHAT IS YOUR POINT AMBASSADOR LARRY:)
MY POINT IS NO MATTER HOW BAD THE WEATHER GETS, NO MATTER HOW MANY
WARS THERE ARE GOING ON AT ANY GIVEN TIME, NO MATTER HOW CORRUPT THE
POLITICIANS GET, NO MATTER HOW MUCH CIVIL AND RACIAL UNREST THERE MAY
BE, NO MATTER HOW MANY PROBLEMS THERE ARE IN THE CHURCH WITH FALSE
TEACHERS AND PROPHETS (PROFITS) AND SO ON, NO MATTER HOW BAD THE
FINANCIAL SITUATION CHANGES (AND IT WILL CHANGE SOON), NO MATTER HOW
PEOPLE LEAVE YOUR LIFE FOR WHATEVER REASON, NO MATTER WHAT THE
FAMILY SITUATION IS OR WILL BECOME, NO MATTER WHAT.
THERE IS NONE
BUT JESUS
THIS IS THE GOOD NEWS MY FRIENDS, THERE IS NONE BUT JESUS, AND THAT'S ALL THERE NEEDS TO BE, BECAUSE THIS WORLD IS NOT OUR HOME, WE ARE JUST PASSING THRU, OUR TREASURES ARE LAYED UP SOMEWHERE BEYOND THE BLUE. (NOT ON THIS EARTH)
WE ARE CITIZENS OF ANOTHER KINGDOM, THE KINGDOM OF GOD, WE HAVE BEEN TRANSLATED OUT OF THE KINGDOM OF DARKNESS(THIS WORLD) AND INTO THE KINGDOM OF LIGHT (A SPIRITUAL REBIRTH) THAT'S ENOUGH TO TRY AND FIGURE OUT FOR A LIFE TIME.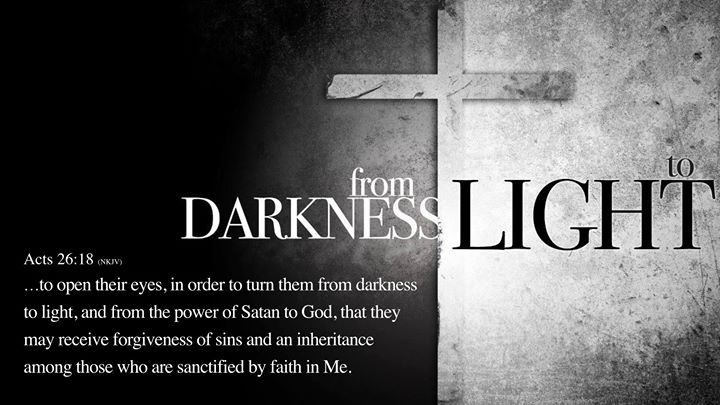 I DON'T EXACTLY KNOW HOW THAT WORKS OR HAPPENS, I JUST KNOW THAT IT DOES, I DON'T EXACTLY KNOW HOW THE AIRPLANE WORKS OR ALL OF ITS FUNCTIONS (even tho I am a pilot) BUT I KNOW IT DOES SO I FLY ON THEM.
AS THIS WORLD BECOMES MORE AND MORE VISUAL AND HIGH TECH THE MORE AND MORE WE NEED TO LOOK AT THE THINGS (KINGDOM OF GOD THINGS IN THE SPIRIT REALM) AND NOT ON THE THINGS THAT ARE ON THE EARTH.
WHY? BECAUSE WE ARE SO EASILY MOVED BY THE THINGS WE SEE, AND THE WORLD SAYS…..SEEING IS BELIEVING…..WHEN THE TRUTH IS…...WE BELIEVE WHAT IS UNSEEN BY FAITH AND THEN WE SEE IT.
THIS PRESENT PHYSICAL WORLD IS GROWING OLD AND COMING APART LIKE A GARMENT AND WILL PASS AWAY, LOVE NOT THE WORLD NOR THE THINGS THAT ARE IN THE WORLD, IT IS PAST TIME TO BECOME COMPLETELY DETACHED FROM THIS WORLD EVEN THO WE ARE STILL IN IT.
I AM BEGINNING TO SEE THE SEPARATION OF THESE 2 KINGDOMS MORE AND MORE THE OLDER I GET,. I LOOK AT THINGS AROUND ME AND AM AMAZED AT HOW DIFFERENT I AM FROM THIS WORLD AND HOW MUCH I DESIRE TO LEAVE THIS WORLD AND BE WITH JESUS.
IF IT WERE UP TO ME I WOULD LEAVE RIGHT NOW, BUT AS YOU KNOW ITS NOT MY CALL AND IT WOULD BE RATHER SELFISH OF ME TO, BUT A GOOD FRIEND OF MINE WENT HOME TO BE WITH JESUS LAST WEEK AND I THOUGHT HOW BLESSED HE IS TO HAVE GONE.
ITS OK I WILL STAY AND TRY TO DO WHAT HE HAS FOR ME TO DO ON MY FINAL LAP OF THE RACE, NO WORRIES.
I ADDED THIS SONG THAT MAKES MY POINT, THERE IS NO ONE ELSE FOR ME
NONE BUT JESUS.
TILL NEXT TIME, REMEMBER EVEN WHEN YOU CANT SEE THE SUN, ITS STILL SHINNING.
AMBASSADOR / SERVANT LARRY